Client Testimonials 1/2
Had a good experience with Brad Wadden Mortgage Broker Services and would like to share your story?
From Ken Fleming
Was referred to Brad by my real estate agent. Best referral I could have got. Brad was so easy to work with. Got me pre-approval to start house hunting and had my mortgage in place within 24 hrs of submission. Will use him again in the future and would highly recommend him to anyone looking to get a mortgage. Thanks again Brad.
From Erin Audrey Tate
Brad is quick, professional and gets straight to the point. I would highly recommended his services if you are looking for a mortgage anywhere in Canada. Thank you Brad for your help!!!
From D.A. March
3 Mortgages with Brad so far and likely a few more in the future. As a Military family, whether in HRM or across the Canada, we need someone I can trust and rely on for my most important investments. Brad can and will go above and beyond that of any financial institution I've ever dealt with. He managed to get me a lower rate at my own bank. The bank I've been with for over 20 years. I'm not sure how but he did. I always recommend Brad to anyone who ever mentions a new mortgage or refinancing. Awesome, stress free experiences every time and I don't expect anything less next time!
From Tricia Lyn
We worked with Brad on two mortgages – one for our first home, and again for a very complicated 2nd residence. Brad worked above and beyond a sales role and became our highly trusted adviser. He showed us how to work our financial situation in our favor to gain an income property, minimize CMHC and mortgage fees, and choose two mortgages that gave us the flexibility and rate security we desired. With consistent follow-up and guidance, everything was completed with ease. When one lender turned us down, Brad came to the plate and helped to put us in a high equity position. For this we are extremely grateful. If you appreciate things done simple, accurate and always in your favor, I highly recommend Brad.
Elisa Browqn Lopes
It's been over 3 years since we moved into our new home. I was so nervous at the beginning of the whole process of buying another home. Let me start by saying that the first time I bought a home it was disastrous. I was so stressed out that I couldn't sleep or even function. Friends of ours gave us Brad's number and said he was a great guy to work with and that they have used him twice already and was satisfied each time. I swear, just dialing his number my hands were shaking but that was short lived. By the first five minutes of our call I felt like I have known him my whole life. He was so easy to talk to you and he walked us through things step by step. Whenever I had a question, no matter what time of day it was he was always there to answer them and put our mind at ease. Right up to our closing date he continued to find us the best rates, we killed a lot of trees let me tell ya. He just didn't find a rate and went with it he continued to look for best ones. Moving in was a breeze, Brad had every company number that we had to contact to have everything hooked up and running. Oh did I mention that we lived in different provinces? Brad is your number one guy. How many brokers can you say would send you Christmas and birthday cards, not just the first year of living in your new home but every year. I have since referred him to a friend of mine and he is now going through the same amazing experience that we did and we would difinitly use him again. Hopefully one day both our families could meet, so we can thank him personally for what he has done for us. Keep up with the good work old buddy. GO HAB'S GO!
Wayne Tate
We used Brad when we bought our condo last December. Although we live in Newfoundland and he's in Nova Scotia, the entire process went very smooth from start to finish. We called him in the pre-approval stage and he broke down all the numbers relating for down payment and closings costs. He also gave us a detailed breakdown of fixed vs. variable rates. Shortly after we had made an offer, we sent him a purchase and sale agreement and less than 24 hrs later we had an approval and a detailed checklist of everything we had to do. The process was very smooth and I highly recommend him.
Robert Boudreau
Brad is the consummate professional who truly knows all the ins and outs of the mortgage world. My situation presented a bit of a challenge but you would never have known that. Tenacious and enthusiastic all the way through to the successful outcome and the result I was after! Look no further…this is your guy!
Daniel Hermanson
Brad helped ease the stress of buying my first home by quickly answering all my concerns and being able to offer such a competitive rate. Thanks Brad. Highly recommended!!
Continued Next Column: →
Download My Application
Our Apple and Android app makes it easy to stress test your mortgage, estimate closing costs, compare options side-by-side, search for the best mortgage rates, email summary reports and is available in several languages including French, Chinese, Hindi and Spanish.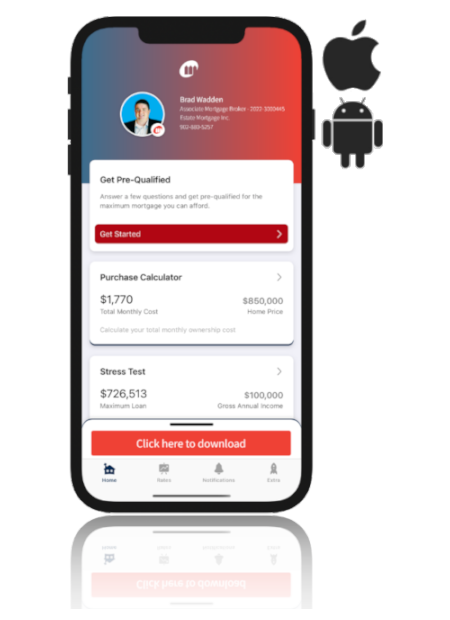 Additional Pages