Wellington Mortgages
Wellington is a small suburban community in Halifax, Nova Scotia along Fletchers Lake. It's a quaint, quite community and a very pleasant place to live. We are pleased to offer mortgages and other financial services in your community and welcome the opportunity to be of assistance.
Why Work with Brad Wadden?
When you work with Brad Wadden, rest assured that I will work diligently to help you narrow down choices and find the right solutions for your budget and needs. Don't hesitate to ask me question so we can clear the air on terminology, and get to know the mortgage products that are available from hundreds of lenders today, as I will be happy to provide you with all the needed insights, information and recommendations. In addition, but working with Brad, a fully licensed, certified professional means having a top-notch negotiating pro who utilizes lender connections for securing the best rate possible.
I will be pelased to assit you with the following and more
A complete review of your credit qualifications
We will discuss your budget and affordability
A complete roadmap for optimal down payment and closing costs
Analyze mortgage options and provide you with informed recommendations
My team and I will also work closely with lenders, inspectors, lawyers and other professionals commonly associated with the purchase of your first home, keeping you up-to-date as we move through the process.
Reaching Out to Me
If you have questions, comments, concerns we have an open line policy, at all times. Don't hesitate to click below and learn more about our communication options. We look forward to hearing from you!
Our FAQ's
We address most of your frequently asked questions in a Q and A style page. If a question has slipped between the crack's, don't hesitate to let us know and we will provider answers, promptly. Click below to continue.
Download My Application
Our Apple and Android app makes it easy to stress test your mortgage, estimate closing costs, compare options side-by-side, search for the best mortgage rates, email summary reports and is available in several languages including French, Chinese, Hindi and Spanish.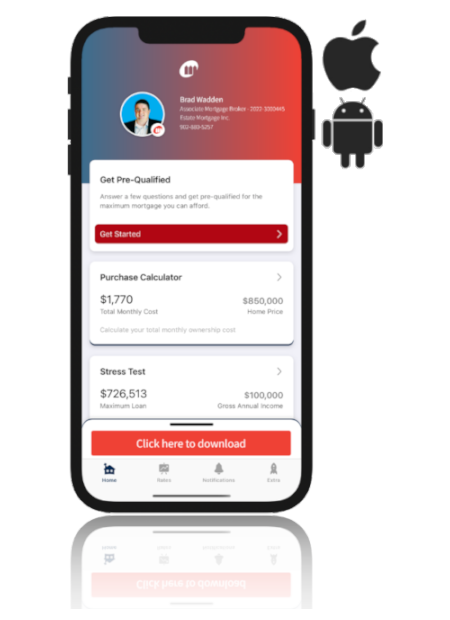 Brad on Social Media
I'm readily available on most major platforms.