Our Service Areas
We can tell you that Nova Scotia is a great province to live in. It's one of three Maritime Provinces and one of the four Atlantic Provinces. Nova Scotia is Latin for "New Scotland", we have a population of about one million, mostly English speaking inhabitants.
Mortgages in Halifax
Halifax is, without question, the largest municipality of the Canadian Province of Nova Scotia, and the largest municipality in Atlantic Canada. If you require a new mortgage, renewal, or at are looking at a possible investment, you've found the right place! Click below for further details.
Mortgages in Dartmouth
We are pleased to offer financial services for residents of Dartmouth, a community of about one-hundred thousand, located on the eastern shore of Halifax. Don't hesitate to click below to learn more.
Mortgages in Sackville
Sackville is a community within the urban area of Halifax. It's a great place to live, work and raise a family. If you require financial services in Sackville, don't hesitate to click below and learn more.
Mortgages in Timberlea
Timberlea is a small community located within the Municipality of Halifax in the Province of Nova Scotia. It has relatively small population of about six-thousand and is a desirable place to live and work. We are pleased to offer our financial services to business and residents of Timerlea. Click below to learn more.
Continued Next Column: →
Download My Application
Our Apple and Android app makes it easy to stress test your mortgage, estimate closing costs, compare options side-by-side, search for the best mortgage rates, email summary reports and is available in several languages including French, Chinese, Hindi and Spanish.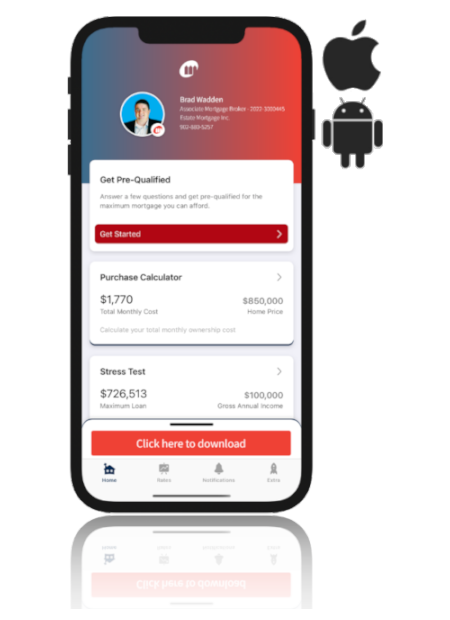 Continued From Previous Column: ←
Mortgages in Cape Breton
Planning on the acquisition or refinance of a mortgage on Cape Breton Island? Why look further? Click below for more details.
Additional Pages