Client Testimonials 2/2
Continued from Page 1 ←
Had a good experience with Brad Wadden Mortgage Broker Services and would like to share your story?
Freddie Hutchison
I dealt with Brad on two mortgage transactions. The first time my mortgage with Royal Bank was up for renewal, Brad was able to transfer me from RBC to another lender at a better rate at no cost to me. The second time I ended up selling my house and had a new one built, this time we ported the mortgage. Not only did Brad take care of porting the mortgage he also dealt with the realtor, builder and the lawyers to make sure everything went smooth and our new home closed on time without a hitch. I will definitely be using Brad again and would strongly recommend him.
Nicholas Alexander Bland
Dealing with Brad couldn't have been easier. He walked us through each step (as it was our first house) and the whole process was simple and painless. From the initial conversations about getting pre approved right up until the closing date, Brad's expertise and experience guided us to the finish line. I would (and have) recommended his services to anyone who wants to deal with a professional who really knows his industry. There are a lot of brokers out there vying for your business but there is only one guy I'd call! Thanks Brad!
Dylan Boudreau
As a first time home buyer I was certainly overwhelmed when it came to exploring the options around where to get my mortgage from. Luckily a friend recommended Brad to me and without a doubt he helped make the process of buying a new home the pleasurable experience it should be. Brad was very fast in his responses and you got the feeling that you really were in expert hands. In almost no time at all he had found us the best rate (better than the big banks were offering) and guided us through the process and answered any and all questions we had with the care you would expect of someone handling one of life's big purchases. I would, without hesitation, recommend Brad for all your mortgage needs and plan to use him again myself when my mortgage is up for renewal.
Continued Next Column: →
Download My Application
Our Apple and Android app makes it easy to stress test your mortgage, estimate closing costs, compare options side-by-side, search for the best mortgage rates, email summary reports and is available in several languages including French, Chinese, Hindi and Spanish.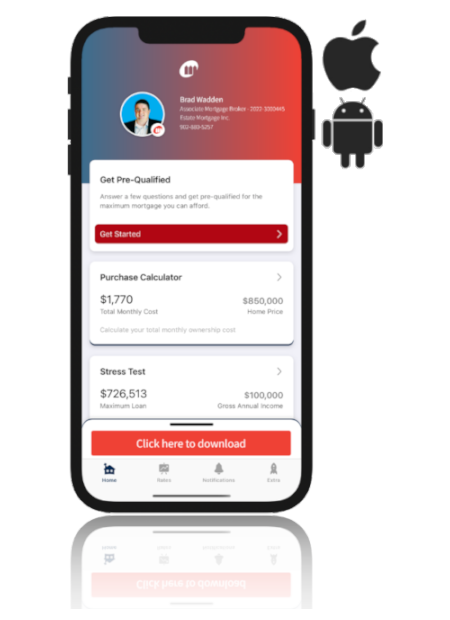 Additional Pages