Brad Wadden Mortgage Broker Services
Welcome to my website! I'm Brad Wadden, a Mortgage Professional at the Mortgage Centre in Halifx. I'm pleased to be a key part of this dynamic financial services team where we deliver on results and commitments to our clients, always.
If you wish to learn more about me and how I can help you achieve your financial goals, don't hesitate to click below for a personal bio and reach out to me at your convenience. I'm always ready to help!
About the Mortgage Centre
The Mortgage Centre is a long-established and reputable mortgage brokerage service, dedicated to providing customers with all the necessary detail to make well thought out decisions for all their financial needs.
Privacy Policy
Sometimes referred to as a privacy statement or privacy notice, our privacy policy discloses how we user your personal information when you visit our website. Don't hesitate to review our privacy policy by clicking below.
Glossary of Terms
For convenience and reference, we've added a comprehensive glossary for anyone interested in terminology within finance. Please click below to continue.
Our FAQ's
We address most of your frequently asked questions in a Q and A style page. If a question has slipped between the crack's, don't hesitate to let us know and we will provide answers, promptly. Click below to continue.
Brad on Social Media
I'm readily available on most major platforms.
Download My Application
Our Apple and Android app makes it easy to stress test your mortgage, estimate closing costs, compare options side-by-side, search for the best mortgage rates, email summary reports and is available in several languages including French, Chinese, Hindi and Spanish.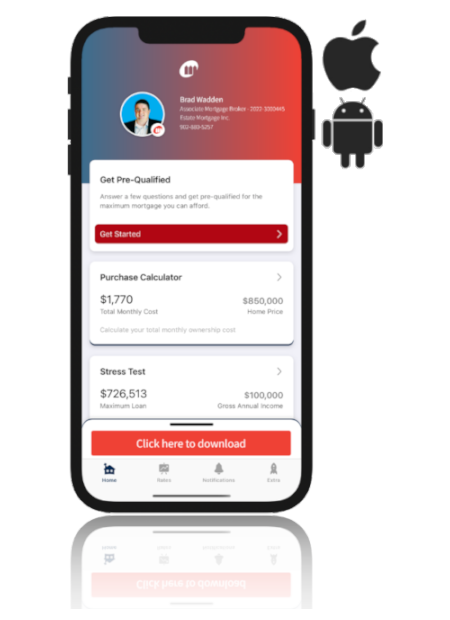 Client Testimonials
We love receiving your kind words and statements regarding the effectiveness of our service. Don't hesitate to click below to review our testimonials.