Online Application Forms
With technological advances, online applications are becoming much more common than their paper alternative. They are relatively easy to use, save our important resources and in general make our lives a little easier. When it's time for the application process, we are pleased to have made available a number of options that are best suited according to your specific needs. As a result, don't hesitate to choose an option below that works best for you.
Secure Online Application Form
Secure website forms are essentially forms that are used on website to securely collect information from users. They are designed to use encryption algorithms and authentication like Secure Socket Layers to protect the information collected. This prevents malicious users from obtaining or altering your information while in transit from you to our office. Rest assured that you are well protected using our online application form.
Click below to get started.
Online PDF Form
Our online, PDF Form requires the appropriate installation of PDF reading software for your browser, such as Adobe Acrobat or Acrobat Reader on your computer. Many web-browsers use various PDF viewers by default, so if you can't type into a form field, it may be due to a browsers default viewer PDF viewer.
Adobe reader technology is publically available and free of charge to install and use on your computer.
Our Configure Browser option will open a new window to Adobe. You may return to our website when you're done.
PDF Application Download
And finally, if you wish to download our application for completion at another time, don't hesitate to click on and save the download as a PDF in an easily accessible location.
Download My Application
Our Apple and Android app makes it easy to stress test your mortgage, estimate closing costs, compare options side-by-side, search for the best mortgage rates, email summary reports and is available in several languages including French, Chinese, Hindi and Spanish.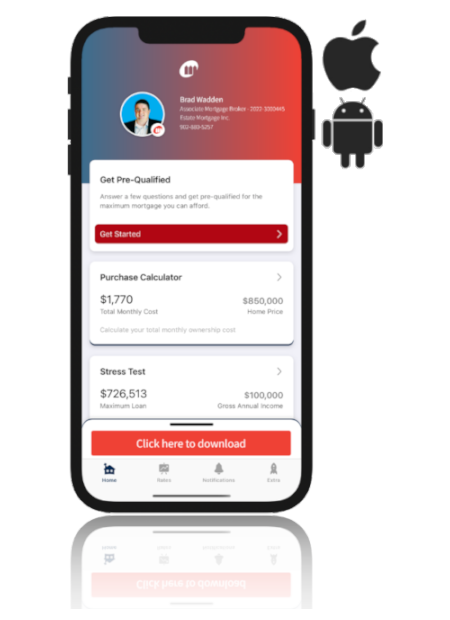 Questions?
If you have any questions regarding all or part of our application form or process, please don't hesitate to reach out to Brad as I am here to be of service, seven days a week from 08:00 – 20:00. Our quick contact form to your left is an easy and quick way to open a line of communication.