Debt Consolidation Service
If you find yourself making payments to a number of creditors every month and becoming overwhelmed, you may be a good candidate for our debt consolidation service. One method of debt consolidation is to consolidate all your debt payments and pay them off with a debt consolidation loan or a personal loan. Area residents with more than $10,000 in debt should consider themselves for debt consolidation.
While making one payment per month is much more convenient for most, you'll need to consider costs involved – we will be pleased to work with you and lenders to attain the best possible rates. Some loans may require collateral to attain favorable rates, which means the loan will be secured by an asset you own, such as home or a car. Working with me will ensure you the best terms for a loan and at the best rates. Don't hesitate to reach out to me and I will be pleased to be of service.
Debt consolidation may be the right choice if you're looking to simplify your financial obligations. However, it can mean a number of different things. Debt consolidation is a way to combine various debts into one new loan and one monthly payment. It can also help simplify your obligations, accelerate debt repayment and save you on interest. Debt consolidation can often require good credit and can at times, put you deeper into debt. It's best to reach out to me to further guide you and find the best solutions.
Halifax Mortgages
If you currently live, work and play in Halifax or thinking about an investment opportunity in our great Province, look no further than Brad Wadden and The Mortgage Centre in Halifax. Click below to learn more.
Our Financial Services
Here at the The Mortgage Centre, Halifax, you will be provided with the attention and respect you deserve regardless of financial service you require. We offer a wide-range of financial products to help meet all your needs. To review our services, don't hesitate to click below.
Download My Application
Our Apple and Android app makes it easy to stress test your mortgage, estimate closing costs, compare options side-by-side, search for the best mortgage rates, email summary reports and is available in several languages including French, Chinese, Hindi and Spanish.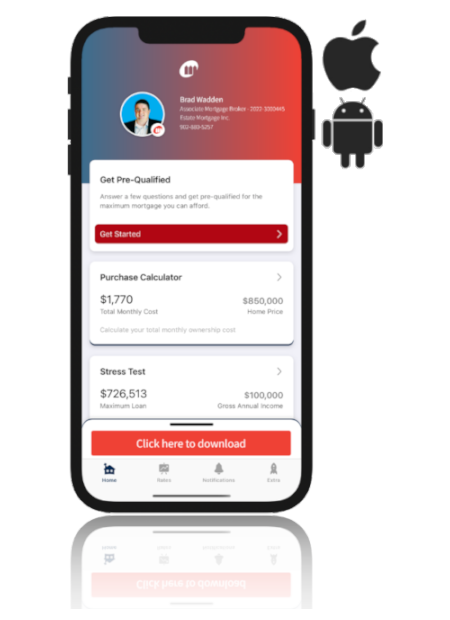 Conntect With Brad
We are pleased to keep an open-line of communication with our clients, at all times. As a result of our commitment, we are thrilled to offer an number of easy-to-use communication methods to facilitate in this process. Click below for more.