Connecting with Brad Wadden
As a Mortgage Broker in Halifax, I am always pleased to keep an open line of communication with all of our new and existing clients. As with our commitment, we are happy to offer a number of easy to use communication methods to help facilitate the communications process.
As a result, don't hesitate to contact me with any comments, compliments or concerns as I want to hear from. Regardless of circumstance – if you are a first-time home buyer, require debt consolidation, or mortgage refinancing, I will be pleased to help. Don't hesitate to reach out to me for your next financial arrangement.
My regular business hours are from 08:00 – 20:00, Atlantic Daylight Saving Time. I may be intermittently available during other time frames. Please note that best efforts are made to respond to your calls, social media requests and emails, outside regular business hours.
Connect Via Text Message
Text messaging is now a widely-accepted communication phenomenon, and I can tell you that as father, I'm very aware of this with our younger generations. As a result, don't hesitate to send me a text message and I will respond as soon as possible. Simply click below for the text messaging dialog box.
Connect Via Live Chat
As you would expect with a great service, we are pleased to have our digital reception service available to complement our existing communication tools. You will be talking to a real live person and this is great tool if you happen to be busy at work or running your own business. Our Live Chat Operators are available from 09:00 – 18:00 E.S.T., which covers all time-zones throughout North America. Simply click on Live Chat below to get started.
Connect Via Live Call
Don't hesitate to establish a direct Voice Over IP call between me and your preferred phone number. Simply click below, enter your phone number and click "Call". It's that easy. Please note our Live Call feature is a very busy service and may be unavailable intermittently.
Download My Application
Our Apple and Android app makes it easy to stress test your mortgage, estimate closing costs, compare options side-by-side, search for the best mortgage rates, email summary reports and is available in several languages including French, Chinese, Hindi and Spanish.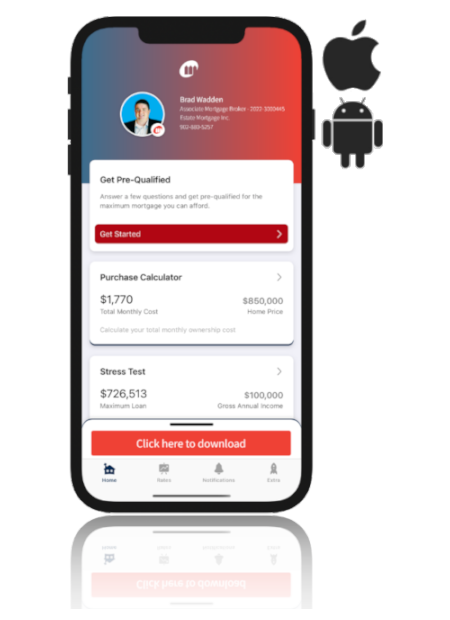 Licensing Information
Associate Broker License: 2021-3000022
Associate Broker License: 2002-3000445
Mailing Address
19 Katherine Ave, Moncton, NB E1C 7M7
Phone Number
(902) 880-5257