About the Morgage Centre
We are a group of franchisors for The Mortgage Centre Group of Companies, supporting a wide Network of Mortgage Brokerages and Professionals in over 100 offices across Canada. The Mortgage Centre brand is a well-established and well-known brand in all ten provinces in Canada. Each of our Franchises is an independently owned and operated establishment.
As one of the most prominate and established mortgage broker and financial services in Canada, we're dedicated to providing our clients with all the information they need to make a well-informed decision regarding mortgage financial needs.
We are experts at attaining the best possible mortgages from leading financial institutions in Canada that work best for you – from the lowest rate to mortgage features that are designed around specific needs now, and well into the future. Not only can we save you time, but in most cases, we can also save you a considerable amount of money over the term of your mortgage.
Commercial Service
Whether your looking to buy commercial property for a business, a shopping plaza or need a new shipping centre added to your growing business, we'll help custom-fit a commercial mortgage solution to your specific needs.
We will be pleased to shop your commercial mortgage to many major lenders that Canadian business has trusted for many years. In addition, we can generally access lenders who only deal with mortgage specialists, which could provide added choice and flexibility with your financing requirements.
Mortgage Protection Plans
We've heard it a million times: "your home is your biggest asset", but at the end of the day, family is the most important thing on the planet. With the increase of illness, household debt is at an all-time high, and Canadians are carrying bigger mortgages, financial protection is more important today than ever. That's why we work closely with insurance providers to ensure you have protection no matter what life brings your way.
Download My Application
Our Apple and Android app makes it easy to stress test your mortgage, estimate closing costs, compare options side-by-side, search for the best mortgage rates, email summary reports and is available in several languages including French, Chinese, Hindi and Spanish.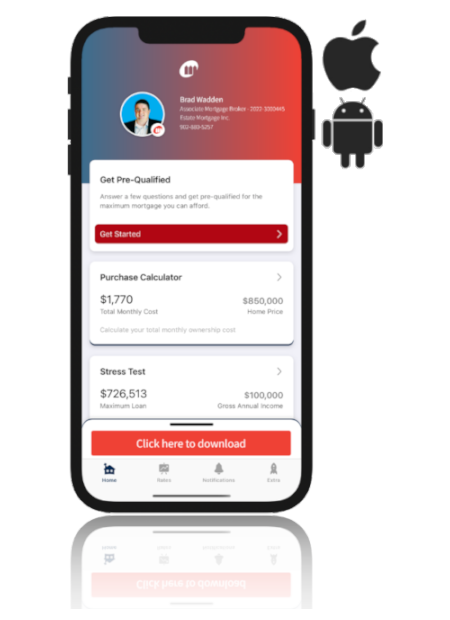 Did you Know?
87% agree that credit protection is an easy way to protect themselves and their family.
56% of Canadians who took time off for a disability said they returned to work early due to financial reasons.
33% of workplace disability claims are related to mental health.
1 in 2 Canadians only have 2 years (or less) of their salary covered if they pass away.