Our Service Areas 2/2
Mortgages in Sydney
Sydney is a former city and urban community on the east coast of Cape Breton Island, in Nova Scotia. We are pleased to be service in and around Cape Breton. Don't hesitate to click below and learn more about us and our services.
Mortgages in Fall River
We are pleased to be part of the Fall River community which is convenitly located within the Region of Halifax, north-east of the Bedford Basin. If you are currently on the market for a mortgage renewal, or other financial service, don't hesitate to learn more about our service offerings. Click below for more.
Mortgages in Waverly
Welcome residents and business owners in Waverly. When you work with Brad of the Mortgage Centre, rest assured that he will be there to assist you with all of your mortgage financing needs from start to finish. Don't hesitate to click below to learn more.
Mortgages in Wellington
If your looking for that perfect mortgage broker service in Wellington, don't hesitate to contact Brad Wadden as your first and only source. Brad will provide you with expert advice on how to immediately save on your mortgages and pay it down, quickly. Click below for more details.
Mortgages in Hammond Plains
Brad Wadden is your trusted Hammond Plains mortgage expert. Brad and The Mortgage Center have contributed significantly towards the growth of our comminutes for a very long time and we look forward to our continued success. Click below to learn more.
Download My Application
Our Apple and Android app makes it easy to stress test your mortgage, estimate closing costs, compare options side-by-side, search for the best mortgage rates, email summary reports and is available in several languages including French, Chinese, Hindi and Spanish.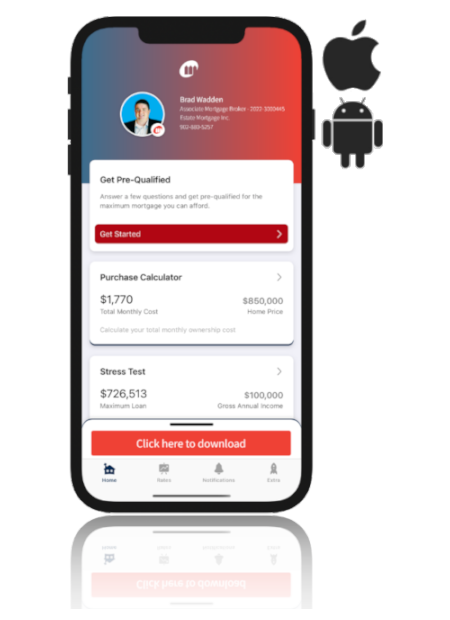 Mortgages in Tantallon
Your search for that perfect Mortgage Broker service ends here. Let top rated Brad Wadden work his magic to find you the best rates. With over two decades of experience why would you consider anyone else for Mortgage Broker Services in Tantallon?
Additional Pages