Brad Wadden Mortgage Broker Services
Hi, I'm Brad Wadden and I have been in the mortgage industry since 2001. I originally started out at Wells Fargo when I was in my last year of studies at Saint Francais Xavier University.
When it comes to Mortgages nothing is more important than experience, your time, and personal service. Understanding and exceeding your expectations is my objective. Not only do I get my clients the best rate out there, I also make the process easier and faster through improved processes and advancements in technology.
My Service Areas
Meeting and exceeding your expectations throughout Halifax and surrounding regions. Don't hesitate to click below to see a complete list of our areas.
My Financial Services
Learn more about our financial services in the comfort of your home or in your office. If you require a mortgage, wish to consolidate debt or contemplating a purchase, we have the right service designed around your needs. Click below to learn more.
Reaching Out to Me
If you have questions, comments, concerns we have an open line policy, at all times. Don't hesitate to click below and learn more about our communication options. We look forward to hearing from you!
Here at Brad Wadden Mortgage Broker Services and The Mortgage Centre, we are pleased to keep an open-line of communication with our clients, at all times. As a result of our dedication, we are thrilled to offer a number of simple communication methods to help facilitate in the communications process.
Download My Application
Our Apple and Android app makes it easy to stress test your mortgage, estimate closing costs, compare options side-by-side, search for the best mortgage rates, email summary reports and is available in several languages including French, Chinese, Hindi and Spanish.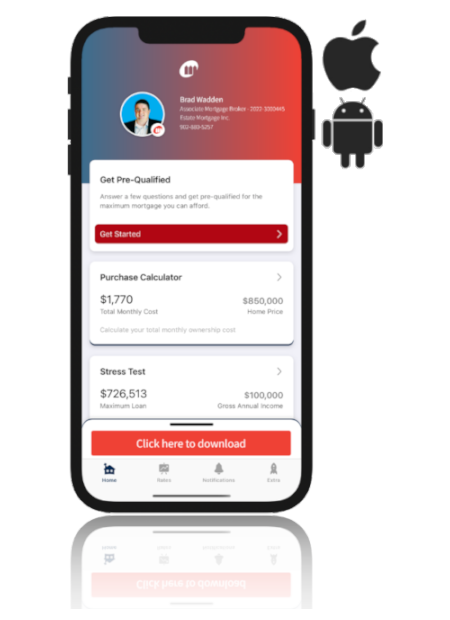 Find me on Social Media
I'm available on all major platforms.
Financial Application Form
When you're ready, don't hesitate to find and fill out our highly secure, online application form or download and return a PDF version of our application.